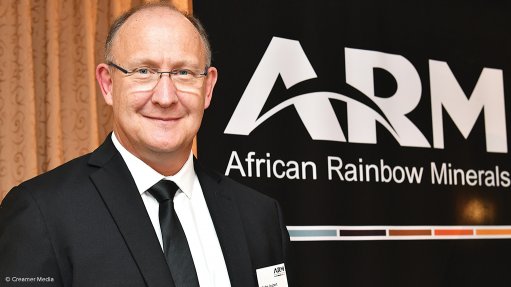 African Rainbow Minerals (ARM) CE Ferrous Division Andre Joubert.
Photo by: Creamer Media
JOHANNESBURG (miningweekly.com) – Steps being taken to add value to manganese waste placed on tailings dams may result in an announcement early in the New Year regarding the turning of that waste into a ferromanganese product, African Rainbow Minerals (ARM) CE Ferrous Division Andre Joubert has revealed.
While a good market remains for the export of high-grade quality manganese lumpy ore, the fines and slimes washed out of that ore – which represent about 15% of the total tonnage produced – are currently not sold, but put on the tailings facility, and work has now begun in that area of waste, Joubert said in response to chairperson Bernard Swanepoel at the London Indaba.
"The philosophy is to advance from being normal miners to exploiting the entire value chain with even the final product not being waste but gypsum," Joubert said during the discussion covered by Mining Weekly.
Johannesburg Stock Exchange-listed ARM works in partnership with Assore and group company Assmang in jointly mining manganese in the Northern Cape.
"We have a few propeller heads in our company and about five or six years ago we had a strategic planning session, where it was clearly indicated that we are going to move forward in terms of better beneficiation and we coined the phrase that we're not going to be just dirt diggers, we're going to go up the value chain," said Joubert.
"We're well advanced in a process where I think we can make some announcements early in the New Year about taking waste that's currently placed on the tailings dam and, with very efficient smelting technology, turning that into a good quality high-carbon ferromanganese product.
"We also run big ferromanganese smelters and in the slag of this ferromanganese we also have manganese oxide, which is a very good product to turn into high-grade battery-grade manganese sulphate and were getting very positive results," Joubert said.
If that comes to full fruition, traditionally mined ore for the traditional steel markets will continue to be mined and exported and fines turned into valuable product with 75% less electrical energy being required than is conventionally used. The byproduct of that will be turned into battery-grade manganese sulphate and the final waste product will then be gypsum.
"I think making high-grade battery-grade manganese sulphate presents a huge opportunity," said Joubert.
SOLAR POWER
At the mine, load-haul dump trucks and underground haul trucks have been converted to battery electric vehicles (BEVs). Because coal-fired power is still used to recharge the batteries, the next step will be the establishment of a solar plant for supply to the BEVs, and in that way reduce the mine's carbon footprint, which also makes economic sense.
MINES RECAPITALISED
"We're very bullish about manganese and in 2012 we started recapitalising our mine so that we can be ready when the demand surge comes and the growth of the other mines has begun to taper down, and we've just completed that work.
"It's very clear that there is going to be a manganese deficit in the future, whether for batteries or for steelmaking and it is because of the current mines operating. The openpit cheap mines are going to go underground, and the prices are going to go up," said Joubert.
"We modernised our mine and in that modernisation process, we improved efficiencies and on the safety front, we've just achieved 11-million fatal-free shifts, which I think for an underground South African mine is an all-time record. In 14 years, we haven't killed anyone in our mine and we're well set up for the future," Joubert added.
Mining flexibility has been achieved with outputs from four-million tons to five-million tons a year envisaged.